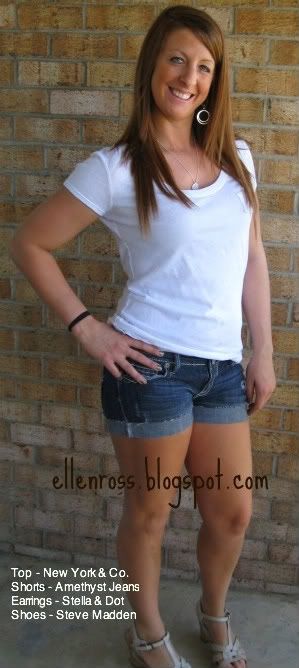 I'm very excited to announce the first ever Beauty Blogger of the Week - Ellen Ross! Make sure to follow her blog Ask Away. Here she is :)
How did you get started?

My name is Ellen and I run the Ask Away Advice, Fashion, & Giveaway Blog. My blog has been around since last August. Originally, it was started as an advice blog. Over the years, my friends have always told me I give the best advice from such a neutral unbiased standpoint that I would be awesome at having an advice column. So I took THEIR advice. Then I got the urge to discuss fashion on my blog so in the fall I changed it to an Advice & Fashion blog. And then this past winter, I finally transformed Ask Away into an Advice, Fashion, AND Giveaway blog. I still post an advice question (every question is real, asked by a reader) every day and plan to keep doing that. I love my readers! They are all so loyal and nice and always give great feedback on my advice posts. I love doing giveaways because the winners are so happy and always send me pictures of themselves with their goodies!

New Beauty Trend you like?

I am in love with the Sally Hansen Salon Effects Nail Polish strips. I think it's such a great alternative to getting a manicure. They last much longer, you can put them on yourself (with a tiny bit of practice), they help protect your nails, and they make such a great fashion statement. I am really into the animal prints like leopard and zebra. I did post a review about it here. And my only advice to anyone who uses them is to put clear coat on right after you put your stickers on, and then touch it up with more top coat every other day. Also, when you put them on, don't put them RIGHT at your cuticles. Leave a tiny bit of space so when your nails grow out, the edge of the strip doesn't stick up and get ripped off.

Favorite Fashion trend?

I love leggings! It's great how you can pair them with a long shirt, or a dress. Shredded leggings are my favorite. I just hate jeans sometimes because they feel so bulky and they can make your legs hot. Leggings are so easy to put on and fit into. Even for the summer, I see leggings all around town and I think it still looks great!

Favorite Health tip?

When you are trying to lose weight – portion control is everything. It's also best to eat 3 meals a day, with 3 snacks in between. I do breakfast, AM snack, Lunch, PM Snack, Dinner. This way I can control my appetite and my cravings. Also, I workout 3-4 times a week and on the days I don't workout, I go for a jog. I also drink a lot of water and I drink green tea to help flush my system.
If you'd like to be considered for "Beauty Blogger of the Week" email me at opalstevensblog@gmail.com